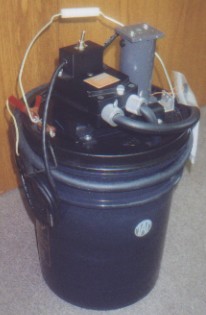 Portable Oil Change Unit
Model 640

For FAST, Clean Oil Changes on:


Boats
Automobiles
Aircraft
Mowers
Trucks
Machinery
Construction Equipment
Also good for draining transmissions and axles!

Exploded Part Diagram with Replacement Part Pricing



Compare These Benefits!
Profit Maker - With time saved and increased oil change business, unit pays for itself in a short time.
Fast Action - Pumps a gallon a minute of warm oil. Even handles cold oil.
Clean - Oil goes directly from crankcase to unit storage tank. No mess or dripping.
Operates Off Boat, Car or Other Battery- 12 Volt DC external power source required.
Low Current Consumption- 4 amps at 12 volts.
Looking Glass - A transparent looking glass lets you see oil coming out and tells when job is done.
Unique Pump Operation - TAT's most important advantage over other units. A high vacuum pump specially designed to pull viscous oil and sludge through small dipstick hole.
Operation of Unit
Hook clamps to battery, insert suction prod in dipstick hole, turn on switch... job is completed in a few minutes.

Major Components
| | |
| --- | --- |
| Storage Tank | - Holds 5 gallons. Emptied through flexible pour spout in the lid. High density polyethylene construction. Stainless steel carrying handle. |
| Pump | - Permanent magnet motor, 1/20 HP, 12/24 volts DC. Rotor & Shafts -- all stainless steel. Epoxy painted for corrosion resistance. 115 V AC motor also available. |
| Tubing | - Oil resistant tubing. |
| Suction Prods | - Inserted on end of tubing. Two prods provided (nylon and flexible steel) to handle different types of dipstick holes. Prods only 1/4" in outside diameter, permitting insertion in smallest dipstick hole. |
---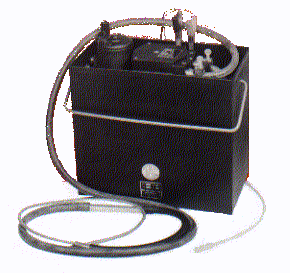 Portable Oil Change Unit
Model 630

Please note: replacement parts will continue to be available.